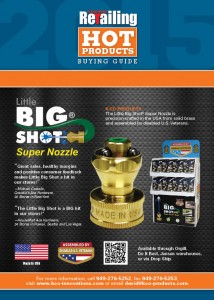 Businesses should always be looking for the latest and greatest products to add to their store's inventory. As independent retailers gear up for the new year, now is the time to search for products that will help keep their business ahead of the competition.
Hardware Retailing's 2015 Hot Products Buying Guide has pages upon pages of innovative products to help boost sales for any independent retailer. With products ranging from power tools to portable smart phone chargers, LED lightbulbs to in-store surveillance technology and more, every category is covered.
This annual supplement provides information about manufacturers, lists new products with clear descriptions and images, supplies merchandising tips for product lines and lists easy access to contact information, allowing retailers to have all the information necessary to get the product they desire ordered and in-stock.
To check out Hardware Retailing's 2015 Hot Products Buying Guide, click here.